13 Victorian Gothic and other Creepy Kids Books for Christmas
There's no better time to read spooky stories than at Christmas (other than Halloween, of course.) So here's a list of 13 Victorian Gothic or otherwise creepy, spooky, and perfectly atmospheric middle-grade books to read this winter (in no particular order!).
(All book covers are copyright of the respective publishers.)
---
1. A Christmas Carol by Charles Dickens
When better than childhood to learn about the horrors we create in our own lives?!
---
2. The Year of Shadows by Claire Legrand
Featuring a "complex and utterly real heroine who is suffering from one misfortune and indignity too many–and that's before the ghosts arrive."
---
3. The Dead of Winter by Chris Priestley
A chilling, frozen tale that "has the capacity to give children a pleasingly good scare." Bwahah!
---
4. The Last of the Spirits by Chris Priestley
A retelling of A Christmas Carol featuring two street kids in Victorian London.
---
5. The Incorrigible Children of Ashton Place: Book I: The Mysterious Howling by Maryrose Wood (and the rest of the series!)
Not really spooky… but mysterious, hilarious, and Victorian!
---
6. Greenglass House by Kate Milford
A freezing cold yet spooky and sweet middle-grade story. I listened to this one on audiobook and really enjoyed it.
---
7. The Gravedigger's Son by Patrick Moody
"A Digger must not refuse a request from the Dead." —Rule Five of the Gravedigger's Code.
---
8. Nevermoor: The Trials of Morrigan Crow by Jessica Townsend
Not really spooky or gothic but it has a fun Christmas scene… and Morrigan rocks.
---
9. Great Ball of Light by Evan Kuhlman
A creepy tale with a super cool cover.
(excerpt!) "It's just past midnight, and my brother, Fenton, and I are pushing a wheelbarrow holding our undead grandfather, who we dug up at a cemetery a mile from our farm. There's one of us on each handle—pushing a sort-of-dead guy is a two-kid job."
---
10. Wolves of Willoughby Chase by Joan Aiken
A gothic children's classic! This book is one of my own favorites from when I was a middle-grade reader.
---
11. Frost Hollow Hall by Emma Carroll
A ghostly middle-grade historical fiction… "Kit needs Tilly to solve the mystery of his death so that his spirit can rest in peace. In order to discover all she can, Tilly gets work as a maid at Frost Hollow Hall. But the place makes her flesh crawl. It's all about the dead here, she's told, and in the heart of the house she soon discovers all manner of dark secrets . . ."
---
12. The 12 Screams of Christmas: Goosebumps Most Wanted by R.L. Stine
Because it isn't a list of spooky middle-grade horror without R.L. Stine, is it?! No!
---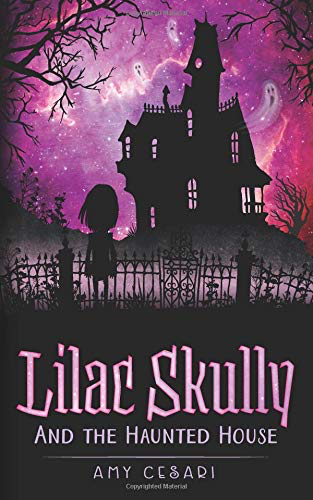 13. Lilac Skully and the Haunted House by Amy Cesari
What could be creepier than being all alone in your own horribly haunted house?
---
Hope you enjoy these creepy reads… and keep the ghostly spirit of joy alive in your heart this holiday season!